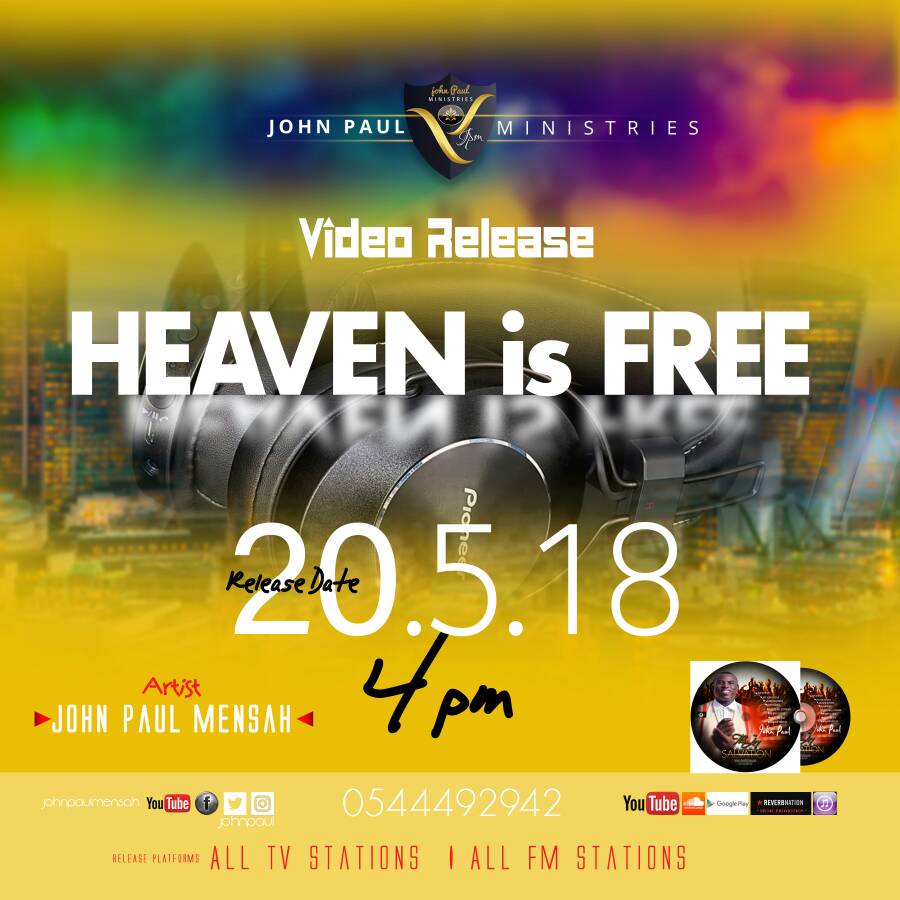 Anointed Ghanaian Gospel artiste JOHN PAUL (known in real life as John Paul J. Mensah) from the camp of JOHRIAM PRODUCTIONS is finally out with the much-awaited video of the track "HEAVEN IS FREE" on his maiden album dubbed "THE JOY OF OUR SALVATION".
The soundtrack which advises all to stay focus and follow Christ ONLY rather than the popular "Pray for Me" mantra. The "Heaven is Free" video is set to be aired on various Ghanaian television screens in the coming days.
It could be recalled that the gospel artiste released this album "JOY OF OUR SALVATION" under the JOHRIAM RECORD LABEL in December 2017 and January 2018 which included two of his promotional songs and videos, "GYE WAYEYI and NYE HON NTSENA (produced by TIEKU)
JOHN PAUL has been on several stages through his ministration to promote Christ and win souls as well.  He intends to spread the word of God as much as he can and would not be focused on one denomination but sorely concentrate on Christians as well as unbelievers.
Men of God should know that going to the Father is strictly through Jesus Christ who is the way, the truth and the life (John 14:16),and not through Anointing oils, Pure Water, Wrist bands, Special Consultations and other items that bear the images of the men of God.
John has more than 20 songs in stock and would gradually release them at God's appointed time. He does worship, praises, reggae and pure highlife. He has the intention to merge his music with a social responsibility project which many Ghanaians and the world would cherish most.
READ MORE HERE: Gospel Artiste John Paul Mensah   
The gospel artiste hopes to do several songs before his first Live Concert performance and Album Launching to be held in Sunyani or the Oil city later in the year 2018.
Follow John Paul Mensah on Facebook (John Paul Ministries) and On Youtube (John Paul Mensah).
 "HEAVEN IS FREE" (Watch & Download Video below)
Click and Download Audio below:
John Paul – Heaven is Free [Listen & Download]
John Paul – Heaven is Free [Listen & Download]
Lyrics of "HEAVEN IS FREE"
(Sing Along)
If you don't go to Heaven
Don't blame Jesus Christ
He has laid all the foundations
Just to help you go
Ɔse he is the way,the truth and the life
Thou can't go to the father
Except through him alone
For God so loved the world that he gave his only son
Whenever believes in him
Will not perish but have a life
Ayi nyina akyir yi,
Na se ankɔ heaven dze a,
Ɔno ye wara wasem ooo
Ewɔ asem bɔ no pɔw
So all you have to do
It's to believe in his name
Know that He is the way, the truth and the life
Do you know?
He is the way,the truth and the life…..4x
Heaven wonfa sika nto ooo
Wongye aboɔdzen
Ma meye anye megye yesu adzi
Na maye nagya apedze
Medzi nokwar
Meye adoye
Mosom Jehovah
Na mako heaven free
Onye ahoɔfe
Onye ahonya
Onye mpaebɔ nkutooo
Na medze bokɔ heaven
Meye osofo a
Meka nokware
Meka asem pa n'akyere
Amansan nyina
Se obi hia bi a
Me nye no bekye
Me ndzi ahonya akyir oo
Na mako Heaven Free
Asɔreba me fi asɔre ba fie a
Menko ntɔkwa
Meka asomdwee nsem
Dze akyere amansan
Mendzi anokum
Mendzi dase wia
Mebrɛ mo ho ase ooo
Na mako heaven free
Rapture obeye hu nti
Mempe atsetsee koraaaa
Medzi yesu akyire
Na mako heaven free
Se manko bi a
Maye moho
Source: Evans Ofori/mediafillasgh.com