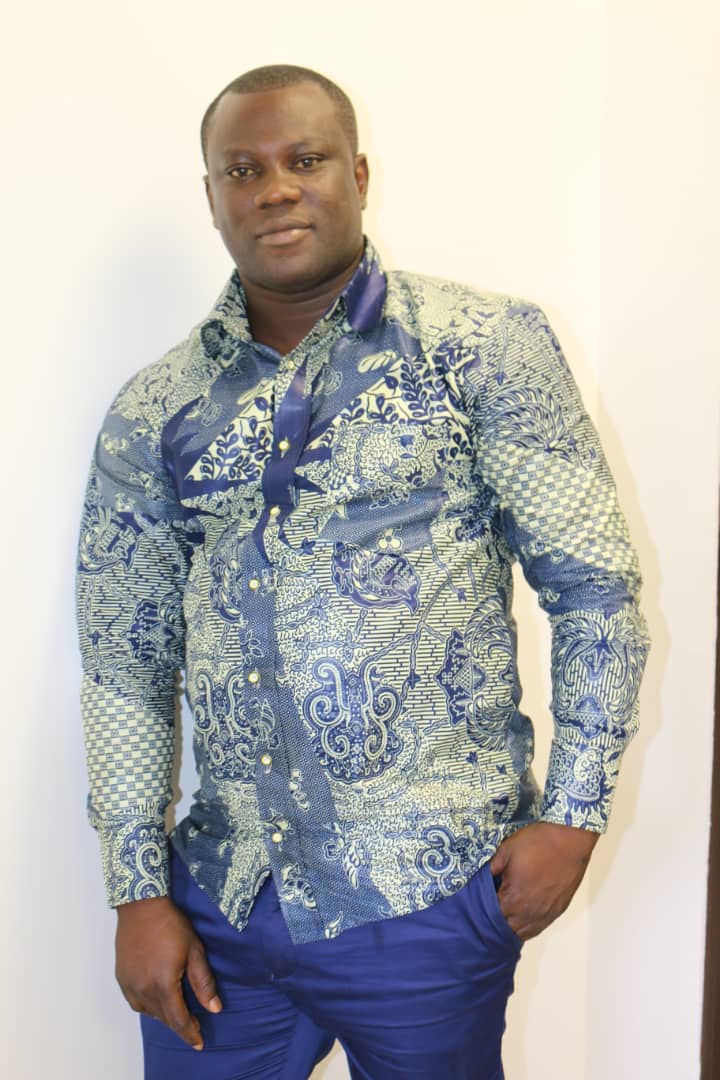 Multiple award-winning broadcaster Bonohene Baffour Awuah has earned nomination at the 2019 DOPHIL Radio and Television Personality (RTP) Awards.
The host of Agoo TV's morning show and outstanding news anchor for Kasapa FM was nominated in the 'Radio Newscaster of the Year (Local Language) category, an award he won a year ago.
This is the third consecutive time that he has been nominated in the same category at the RTP awards. He emerged winner last year after finding himself in a tough category that had a tall list of bigwigs in the industry.
Before joining the media, He was the Headmaster of the SDA JHS in the Jaman North District of the Brong Ahafo Region and later joined Yankee FM in Sampa where he worked as a Morning Show Host, Head of Programs and News Anchor at Yankee FM.
He joined the EIB Network in September 2016 and has since worked his way into the hearts of ardent listeners of the station with his professionalism and hard work.
Bonohene is the host of Agoo TV's political and social breakfast show, Yensempa, which airs every weekday from 6am – 9am.
Folks, let's all help propel this wonderful personality by Voting for him so that he retains this award. No Doubt, he Rightly Deserves It Once Again.
The 2019 RTP Awards is sponsored by DOPHIL Roofing Sheets. The official announcement was made at a press conference held on Tuesday, July 2, 2019, at the Holiday Inn, Accra.
DOPHIL Roofing Systems, a company that deals in roofing sheets, tiles, glazing and woodwork takes over from Adonko as the main sponsor of the 2019 RTP Awards.
The annual event seeks to recognise outstanding media personalities whose work show exemplary leadership towards building a vision and a future for Ghana's media platform.
The 2019 DOPHIL RTP Awards is slated for October 12, 2019.
See FULL List below.
TELEVISION CATEGORIES 2018-2019
RTP PERSONALITY OF THE YEAR 2018-2019
NANA ABA ANAMOAH – GHONE TV
STACY AMOATENG – PLATINUM NETWORK
ABEIKU AGGREY SANTANA – OKAY FM
PATRICK OSEI AGYEMAN (SONGO) – ADOM TV
BERNARD AVLE – CITI FM
UMARU SANDA AMADU – CITI FM
MEDIA GROUP OF THE YEAR 2018-2019
MEDIA GENERAL GROUP
DESPITE MEDIA GROUP
ANGEL BROADCASTING NETWORK
EIB NETWORK
MULTIMEDIA GROUP
CITI MEDIA GROUP
CLASS MEDIA GROUP
RTP HONORARIES OF THE YEAR 2019
1 PROFESSOR DR. KWAME KYEI – OWNER OF VISION 1 FM, LIGHT FM AND LIGHT TV
ALHAJI SEIDU AGONGO – OWNER OF ACCRA FM, CLASS FM, NUMBER 1 FM AND CTV
DENNIS KOJO ANDERSON – OWNER OF PRAISE TV GHANA
TELEVISION CATEGORIES 2018-2019
TV STATION OF THE YEAR 2018-2019
UTV TV
CITI TV
KWESE TV
TV3
ANGEL TV
GHONE TV
ADOM TV
DIGITAL TV CHANNEL OF THE YEAR 2018-2019
MAX TV
TV XYZ
PRAISE TV
OBTV
ANGEL TV
PRECIOUS TV
SOUL TV
HOMEBASE TV
MARANATHA TV
ADOM TV
THUNDER TV
12.PAN AFRICAN TV
AGOO TV
ICE TV
ATINKA TV
MAX TV
PRAISE TV
LIGHT TV
CITI TV
TV PROGRAM OF THE YEAR 2018-2019
THE LATE AFTERNOON SHOW – GHONE TV
NEW DAY – TV3
THE POINT OF VIEW – CITI TV
GH TODAY – GHONE TV
ADEKYE NSROMA – UTV
RESTORATION WITH STACY – PLATINUM NETWORK
GOOD MORNING GHANA – METRO TV
TV MORNING SHOW HOST OF THE YEAR 2018-2019
RANDY ABBEY – METRO TV
JOHNNIE HUGHES – TV3
YAA KONAMAH – UTV
SERWAA AMIHERE – GHONE TV
BISMARK BROWN – ATINKA TV
6. DZIFFA AKUA AMETAM – CITI TV
PATRICE AMAGASHIE – TV AFRICA
TELEVISION MORNING PROGRAM OF THE YEAR 2018-2019
GHANA NIE – ATINKA TV
GH TODAY – GHONE
NEW DAY – TV3
4.BREAKFAST LIVE – TV AFRICA
ADEHYE NSROMA – UTV
GOOD MORNING GHANA – METRO TV
BREAKFAST DAILY – CITI TV
TV SPORTS SHOW HOST OF THE YEAR 2018-2019
YAW AMPOFO ANKRAH – KWESE TV
DAN KWAKU YEBOAH – UTV
PATRICK OSEI AGYEMANG (SONGO) – ADOM TV
KOKUI SELORMEY HANSON – KWESE TV
SADDICK OBAMA – ATINKA TVTO ANGEL TV
MICHAEL KOFI ODURO – METRO TV
THIERRY NYANN – TV3
TV SPORTS PROGRAM OF THE YEAR 2018-2019
FIRE FOR FIRE – ADOM TV
ANGEL SPORTS LIVE – ANGEL TV
HOME RUN – KWESE TV
SPORTS DIRECT – METRO TV
CHEERS – GHONE TV
CITI SPORTS (EPL PREVIEW SHOW) – CITI TV
SPORTS STATION – TV3
TV FEMALE ENTERTAINMENT SHOW HOST OF THE YEAR 2018-2019
BELLA MUNDI – GHONE TV TO TV3
REGINA VAN-HELVERT – GHONE TV
GLORIA SARFO – ANGEL TV
AJ SARPONG – CITI TV
JACKIE ACQUAYE (JACKIEISEVERYWHERE) – METRO TV
AKUA AMOAKOWAA – ANGEL TV
TIMA KUMKUM – ADOM TV
TV MALE ENTERTAINMENT SHOW HOST OF THE YEAR 2018-2019
FOSTER AMPONSAH ROMANUS – ETV GHANA
ABEIKU SANTANA — UTV
BROWN BERRY – TV7 (ZEEX MUSIC TV)
KPEKPO MAXWELL JUSTICE (KMJ) – JOY PRIME
IBRAHIM BEN BAKO (IB) – JOY PRIME
ADU BOAHEN – MARANATHA TV
TV ENTERTAINMENT PROGRAM OF THE YEAR 2018-2019
1.THE LATE AFTERNOON SHOW – GHONE TV
THE PURPLE ROOM– ANGEL TV
RYTHMZLIVE – GHONE TV
MCBROWN'S KITCHEN — UTV
ZEEX TV SHOW – TV7 (ZEEX PRODUCTION)
PLAYLIST – METRO TV
ATUU – UTV
TV FEMALE NEWSCASTER OF THE YEAR 2018-2019
NATALIE FORT – TV3
AFIA KYERE — UTV
3. PORTIA GABOR – TV3
ABENA OWUSU NYAMEKYE – CITI TV
SERWAA AMIHERE — GHONE TV
AFIA ADUTWUMWAA — UTV
FREMA ADUNYAME – CITI TV
TV MALE NEWSCASTER OF THE YEAR 2018-2019
KWEKU TEMENG – GHONE TV
KWABENA ANTWI BOASIAKO – UTV
PAA KWESI ASARE – TV3
ALFRED OCANSEY – TV3
LOUIS BOBBIE ANSAH – CITI TV
AGYA KWABENA — UTV
NANA BOADU OBUOBI — ANGEL TV
TV NEWS PROGRAM OF THE YEAR 2018-2019       
CITI NEWSROOM – CITI TV
NEWS 360– TV3
BUSINESS DASHBOARD – CITI TV
UTV NEWS – UTV
NEWSROOM – GHONE TV
NEWS NIGHT – METRO TV
TV DISCOVERY OF THE YEAR 2018-2019
COOKIE – GHONE TV
ROSELYN FELLI – TV AFRICA
RIDWAN DEEN OSMAN – GHONE TV
AYISHA YAKUBU – TV3
BENEDICTA GAFA – TV3
PATRICIA ASIEDUA – THUNDER TV
KWAME OWUSU DANSO – PAN AFRICAN TV
TV FEMALE PRESENTER OF THE YEAR 2018-2019
NANA ABA ANAMOAH – GHONE TV
STACY AMOATENG – PLATINUM NETWORK
YAA KONAMAH – UTV
KOKUI SELORMEY HANSON – KWESE TV
BERLA MUNDI – GHONE TV TO TV3
6. NANA AMA MCBROWN – UTV
SERWAA AMIHERE – GHONE TV
TV DEV'T SHOW HOST OF THE YEAR 2018-2019
BRIGHT NANA AMFOH – TV3
NANA ABA ANAMOAH – GHONE TV
MS NANCY – GHONE TV
STACY AMOATENG – PLATINUM NETWORK
AKUMAA MAMA ZIMBI – ADOM TV
AMA PRATT – PAN AFRICAN TV
ANIM ADDO – UTV
TV REALITY SHOW OF THE YEAR 2018-2019
TALENTED KIDZ 2019 – TV3
DI ADA 2018/2019 – ATINKA TV
LIVE INSIDE AND WIN THE RIDE 2019 – ETV GHANA
GHANA'S MOST BEAUTIFUL 2018 – TV3
MISS GOLDEN STOOL 2018 – ANGEL TV
RYTHMZ COVERS 2019 – GHONE TV
MISS UNITED CONTESTANTS GHANA 2019 – ANGEL TV
TV LOCAL SERIES OF THE YEAR 2018-2019
SADIA – TV3
BRITISH ACCRA – TV3
BOYS ABRE – UTV
TABLE OF MEN – TV AFRICA
RADIO CATEGORIES 2018-2019
RADIO STATION OF THE YEAR 2018-2019
STARR FM
PEACE FM
ADOM FM
ANGEL FM (ASHANTI REGION)
CITI FM
JOY FM
OKAY FM
RADIO PROGRAM OF THE YEAR 2018-2019
WO HAW NI SEN? – PEACE FM
3FM DRIVE – 3FM
SUPER MORNING SHOW – JOY FM
ENTERTAINMENT REVIEW – PEACE FM
CITI BREAKFAST SHOW – CITI FM
KOKROOKOO — PEACE FM
DWASO NSEM – ADOM FM
BEST RADIO PERSONALITY GREATER ACCRA REGION 2018-2019
BERNARD AVLE – CITI FM
UMARU SANDA AMADU – CITI FM
FRANCIS ABBAN – STARR FM
AGYEMANG PREMPEH – POWER FM
NANA YAW SARFO – VISION 1 FM
KWAME NKRUMAH TIKESIE — OKAY FM
WINSTON AMOAH – 3FM
BENJAMIN AKAKPO — CLASS FM
BEST RADIO PERSONALITY ASHANTI REGION 2018-2019
SAMPSON K NYAMEKYE – HELLO FM
OMANHENE YAW ADU BOAKYE – KESSBEN FM
KWAME TANKO – ANGEL FM
IKE DE UNPREDICTABLE– ANGEL FM
MR. KAXTRO – ULTIMATE FM
AUNTY NAA – OYEREPA FM
JOE LAKAR – KESSBEN FM
KWAME ADINKRA – PURE FM
BEST RADIO PERSONALITY EASTERN REGION 2018-2019
RAPCHAR – KINGDOM FM
NANA YAW KUMI JNR (LONDONA NIE) – KINGDOM FM
EUGUNE AKOTO BAMFO – AGOO FM
DR PREKESE – DADI FM (MOVED)
AKUA JUSTINA – OBOUBA FM
PAPA ATTITUDE – RITE FM
BRIGHT AWUKU (DJ MIX) – EMAK FM
NANA KWESI BAAH (ODEHYIEBA KWESI) – GOODLIFE FM
BEST RADIO PERSONALITY NORTHERN SECTOR OF GHANA 2018-2019
DABILE SEBASTIAN ZAMPREYAL – RADIO SAVANNA
MUMUNI YERIFA YUNUS – JUSTICE FM
SEY MUBARRAK – ANGEL FM
DAKURA ALASKA – PUPELI FM
ASPERILLA FOSTINO – SUNGMAALE FM
ANAAKAA WARRIS – RADIO PROGRESS
ABDUL SOMED GAIDA – DIAMOND FM
KWAKU ODURO – KESMI FM
BEST RADIO PERSONALITY CENTRAL REGION 2018-2019
ADU GYAMFI MARFO – OSAGYEFO FM
KWAME DAPAA ASARE – OKOKROKO FM
NAK ABRANTSE-KWANTENPON – RICH FM
SIR WALKER – NKWA FM
CONSCIOUS QUEEN– PINK FM
CANDYMANN – DARLING FM
NANA SANKAH – EAGLE FM
KINGSLEY – NKWA FM
BEST RADIO PERSONALITY VOLTA REGION 2018-2019
BELINDA BREDZEI – KUUL FM
MARY BEDZO – KEKELI FM
MARTIN ASHIGBEY – DZIGBORDI FM
BRIGHT ELLIS – GLOBAL FM
FRANK FOLEY – HERITAGE FM
ISRAEL ABOTSIVIA – KEKELI RADIO
KWABENA NTOW – BEYOND FM
SIZZLA DELLINGS NYASOGBOR – SWISS FM
BEST RADIO PERSONALITY WESTERN REGION 2018-2019
KOJO BRACE– SKYY FM
KWADWO AGYEI BOAKYE – BEACH FM
PAA KWESI SIMPSON – CONNECT FM
YOOFI EYESON – SPICE FM
NANA YAW GYEBI – GOODNEWS FM
NANA ADJOA ARTHUR – SKYY FM
KWAME BOAKYE – KYZZ FM
JOE KUMI – EMPIRE FM
BEST RADIO PERSONALITY BRONG AHAFO REGION 2018-2019
DJ QUEST – ARK FM
DELI HECTOR – SKY FM
ALHAJI ALHASSAN YAHAYA– ARK FM
NANA YAW NKETIAH – GIFT FM
COLINS APRAKU (ALUTA) – MOONLIGHT FM
ACHAAB STEPHEN – CHEERS FM
ADU KWABENA MUSTAPHA – KISS FM
NANA OWOAHENE – ROYALS FM
RADIO MORNING SHOW HOST OF THE YEAR 2018-2019
NANA YAW KESSE – PEACE FM
BERNARD AVLE – CITI FM
FRANCIS ABBAN – STARR FM
DANIEL DADZIE – JOY FM
5.EKOURBA GYASI SIMPREMU – ATINKA FM
KWASI ABOAGYIE – NEAT FM
KWAME NKRUMAH TIKESIE – OKAY FM
RADIO MORNING PROGRAM OF THE YEAR 2019-2019
KOKROKOO – PEACE FM
DWASO NSEM – ADOM FM
MORNING STARR – STAR FM
CITI BREAKFAST SHOW – CITI FM
SUPER MORNING SHOW – JOY FM
ADE AKYE ABIA – OKAY FM
DAYBREAK HITZ – HITZ FM
RADIO MID-MORNING SHOW HOST OF THE YEAR 2018-2019
NANA AKUA – LUV FM
MIRIAM OSEI AGYEMANG – 3FM
NANA YAW SARFO – VISION 1 FM
KOFI KUM BILSON– PEACE FM
NANA ROMEO – ACCRA FM
JON GERMAIN – STARR FM
AGYENIM BOATENG – KASAPA FM
RADIO LATE AFTERNOON SHOW HOST OF THE YEAR 2018-2019
JESSICA OPARE SAFORO – CITI FM
GIOVANNI CALEB – 3 FM
3. ABEIKU SANTANA – OKAY FM
ANTOINE MENSAH – LIVE FM
BLAKK RASTA – ZYLOFON FM
6.MICKY DARLING – PEACE FM
KOFI OKYERE DARKO (KOD) – STARR FM
ELVIS CRYSTAL – PLUZZ FM
RADIO SPORTS SHOW HOST OF THE YEAR 2018–2019
NATHAN QUAO – CITI FM
DAN KWAKU YEBOAH – PEACE FM
JOE LAKAR – KESSBEN FM (ASHANTI REGION)
MICHAEL DARKO (DON SUMMER) – ANGEL FM (ASHANTI REGION)
HENRY ASANTE TWUM – STARR FM
GEORGE ADDO JUNIOR – JOY FM
ROCKSON ADJEI YEBOAH – FOX FM (ASHANTI REGION)
RADIO SPORTS PROGRAM OF THE YEAR 2018-2019
ASEMPA SPORTS – ASEMPA FM
ANGEL SPORTS – ANGEL FM (ASHANTI REGION)
PEACE POWER SPORTS – PEACE FM
STARR SPORTS – STARR FM
HOT FM SPORTS – HOT FM
HAPPY SPORTS – HAPPY FM
CITI SPORTS – CITI FM
RADIO NEWSCASTER OF THE YEAR (LOCAL LANGUAGE) 2018-2019
YAA KONAMAH – PEACE FM
AFIA POKUAA– ADOM FM
KWABENA MARFO — PEACE FM
DAAKYEHENE OFOSU AGYEMAN – POWER FM
AKOSUA AGO ABOAGYIE – PEACE FM
BONOHENE BAFFOUR AWUAH – KASAPA FM
AKOSUA AGYEIWAA BONSU — ATINKA FM
RADIO NEWSCASTER OF THE YEAR (ENGLISH LANGUAGE) 2018-2019
EMEFA APAWU – JOY FM
UMARU SANDA AMADU – CITI FM
NAA DEDEI TETTEH – STARR FM
ATIEWIN MBILLAH-LAWSON – STARR FM
NAA BORLEY BORTEY – STARR FM
EVANS MENSAH – JOY FM
PEARL AKANYA OFORI – CITI FM
RADIO NEWS PROGRAM OF THE YEAR 2018-2019
EYE WITNESS NEWS – CITI FM
PEACE FM NEWS – PEACE FM
3. STARR NEWS TODAY – STARR FM
TOP STORY – JOY FM
KASIEBO IS TASTY – ADOM FM
ACCRA KASIEBO — ACCRA FM
TOP FM NEWS – TOP FM
RADIO ENTERTAINMENT TALK SHOW HOST 2018-2019
AGYEMANG PREMPEH – POWER FM
KWADWO PREKO DANKWA – STARR FM/KASAPA FM
AKWASI ABOAGYE – PEACE FM
KWAME ADJETIA (AK) — NEAT FM
CHRISTIAN AGYEI FRIMPONG – ONUA FM
6.SAMMY FLEX – ZYLOFON FM
NANA KWADWO ADDO – 3FM
RADIO DJ OF THE YEAR 2018-2019
DJ FLEXY – POWER FM
MR. KAXTRO – ULTIMATE FM
DJ MIC SMITH – YFM
DJ AROMA – PURE FM
DJ VYRUSKI – STARR FM
VISION DJ – YFM
DJ PHLETCH – OKAY FM
RADIO FEMALE PRESENTER OF THE YEAR 2018-2019
AFIA POKUAA – ADOM FM
2. ATIEWIN MBILLAH-LAWSON – STARR FM
MIRIAM OSEI AGYEMANG – 3FM
JEREMY VAN-GASHONG – LIVE FM
NANA YAA KONADU – PEACE FM
AKOSUA AGOR ABOAGYE – PEACE FM/OKAY FM
JESSICA OPARE SAFORO – CITI FM
RADIO DEVELOPMENT SHOW HOST OF THE YEAR 2018-2019
NANA YAA KONADU – PEACE FM
MAMA EFE – NHYIRA FM
JOHNNIE HUGHES – 3FM
AKUMAA MAMA ZIMBI– ADOM FM
ETORNAM SEY – 3FM
NAA ATWEE ODURO – NUMBER ONE FM
OTWINOKO – KUMASI FM
RADIO REGGAE SHOW HOST OF THE YEAR 2018-2019
AFRICAN CHILD – LUV FM/NHYIRA FM
BLAK KOBBY – 3FM
KING LAGAZI – HITZ FM
BLAKK RASTA – ZYLOFON FM
CONSCIOUS QUEEN – PINK FM
RADIO GOSPEL SHOW HOST OF THE YEAR 2018-2019
FIFI FOLSON – SUNNY FM
NANA YAW SARFO – VISION 1 FM
KOJO OPPONG ADJEI – SUNNY FM
JESHURUN OKYERE – LIVE FM
OB NARTEY – VISION 1 FM –
AGYENIM BOATENG – KASAPA FM
JOHNSON ADU BOAHEN – ANGEL FM
RADIO TALK SHOW HOST OF THE YEAR 2018-2019
PHILIP OSEI BONSU – ASEMPA FM
NANA YAW KESSE – PEACE FM
MUGAABE MAASE – XYZ/POWER FM
NYANSA BOAKWA – HAPPY FM
AKWASI NSIAH – KASAPA FM
ADKABRE FRIMPONG MANSO – NEAT FM
NANA YAA KONADU – PEACE FM
BRIGHT KWESI ASEMPA – ONUA FM